$10,685 Raised For Mental Health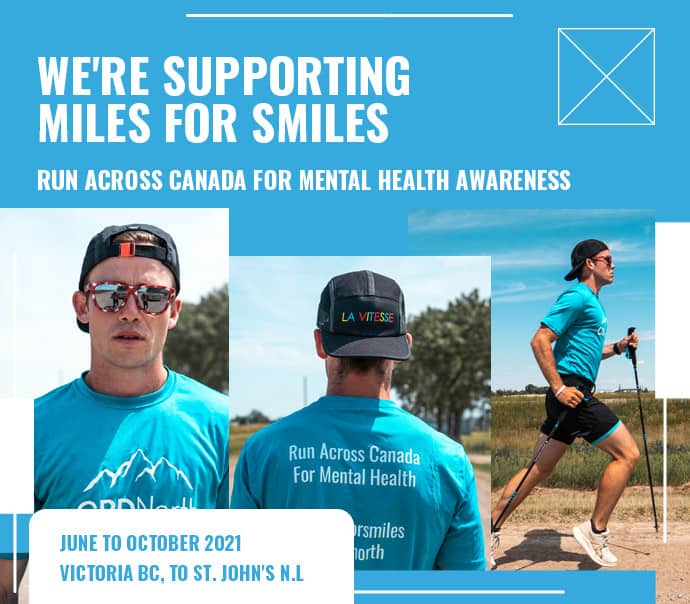 Because Mental Health Matters
Because one in five Canadians will experience a mental health crisis in any given year. No one should be alone in these struggles. That's why we supported this cause to help raise funds for the Canadian Mental Health Association. In total, over $65,000 was raised for Mental Health.
Supporting Essential Services For All
On behalf of Skylar's Miles For Smiles fundraiser, we helped contribute over $10,000 to fund free & accessible Mental Health Services for all Canadians. With all our hearts, thank you for all your amazing contributions – through the $5 we donated for each of your orders.
The money you've helped us raise will go directly towards bettering the Mental Health of countless Canadians ❤️
Learn More About Skylar's Run Across Canada
Who is Skylar?
Skylar Roth-MacDonald is an ultra-runner based in Calgary. Skyler grew up in a small community in Central Alberta where many youth tragically lost the batte for mental health. Skylar has had his own mental health struggles, going through depression from the loss of so many friends, teammates and classmates. 
It was only after years of suffering from grief of losing many to suicide, that Skylar found peace through solitude and self-reflection in the Mountains. It was there that Skylar was able to reflect and rediscover himself with a new purpose, in the challenge and triumph of ultra-running.
Having hit rock bottom, Skylar has found his purpose in casting his light to help others.
How far did Skylar Run Across Canada?
From June 1st to October 21st 2021, Skylar ran the entire way from Victoria BC to St. John's, Newfoundland. That's over 7500km in total – an average of 65-75km run per day, for 5 months straight! That's nearly two marathons daily! All to raise awareness and funds for Mental Heath. Let's all give a huge applause to this remarkable and inspiring man!