Wondering If CBD Could Help Your Dog?
CBD Education Series
There's nothing worse than seeing our furry friends in discomfort. Whether it's of old age, genetics, trauma, or stress, our pets go through a lot. If you've been searching for natural ways to bring more ease, comfort & relief into your pet's life, CBD might be what you've been looking for.
How Does CBD Work For Dogs?
CBD for pets is an all-natural supplement derived from Hemp. All animals have an endocannabinoid system, including dogs and their loving human owners.
CBD then interacts with the body's CBD receptors to help regulate one's nervous system, immune system, and supports the body's overall state of balance & well-being.
Just like their loving human owners, dogs naturally produce CBD which may be vital to maintaining a healthy state of being. However, everyday stress, trauma, or genetics can cause the body to be deficient in cannabinoids. This deficiency can disrupt the endocannabinoid system's ability to maintain a healthy state of balance, which can then cause a disturbance to your pet's appetite, sleep, pain response, and mood.
CBD Isolate products don't contain any THC, so your dog won't experience any high when taking such products. Also, unlike many chemical pain-relievers which generaly havwe side-effects, CBD is 100% all-natural and also non-addictive so your dog won't develop a dependency.

12 Signs Your Dog Could Benefit from CBD
It can be tricky to identify the cause of discomfort for your dog, so we've outlined some signs and how to treat them:
CBD is an all-around supplement that can be implemented to treat a variety of symptoms at the same time. Here are some signs your furry friend could benefit from CBD.
Pain & Mobility (Senior Dogs)
Your dog experiences occasional discomfort during daily walks & activities.

Your dog struggles to walk or sit.

Your dog has arthritis.
Whether your dog is recovering from an injury, experiences occasional discomfort, or is growing older, CBD can help. CBD supports a normal inflammatory response in the body, which helps with stiffness and soreness while also supporting healthy cellular activity and normal muscle recovery
Anxiety & Stress (Pups & Rescues)
Your dog experiences separation anxiety. You come home to destruction/ whining & howling.

Your dog shows signs of stress when traveling through sickness, nauseous & anxiety.

Your dog is easily frightened or scared.

Your dog is aggressive & often acts out.
CBD has a calming effect on the nerves, which promotes relaxation in dogs and supports a normal emotional balance. It helps dogs cope with external stresses and situations that may cause stress & anxiety.
General Health Issues
Your dog struggles with heart health/experiences seizures 

Your dog suffers from inflammation & allergies.

Your dog shows signs of appetite loss by eating less than usual, not eating at all, refusing treats

Your dog is losing a lot of weight

Your dog shows a lack of energy & motivation 
There are many benefits CBD provides. It's known to reduce inflammation,  stimulate your dog's appetite and promote Cardiovascular Health. It has even been found to stop cancer cells from growing. If your dog is showing any or all of these symptoms we recommend giving CBD a try.
What to Consider Before Giving Your Dog CBD
It's important to make sure the CBD you are using is all-natural, free of any artificial additions or preservatives & free of THC! CBD products are perfectly safe for your furry friend as long as they're derived from the hemp variety of the cannabis plant. Products derived from the marijuana variety of cannabis, however, are NOT safe for animal consumption, as they may contain high levels of THC and can thus be toxic to animals.
If you decide to try CBD for your furry companion, slowly introduce it into your daily routine. Start with lower doses, you can always up the dose as you go along. Just be sure to closely monitor your dog's behavior & well-being. Always be sure to consult your Vet before giving your dog anything!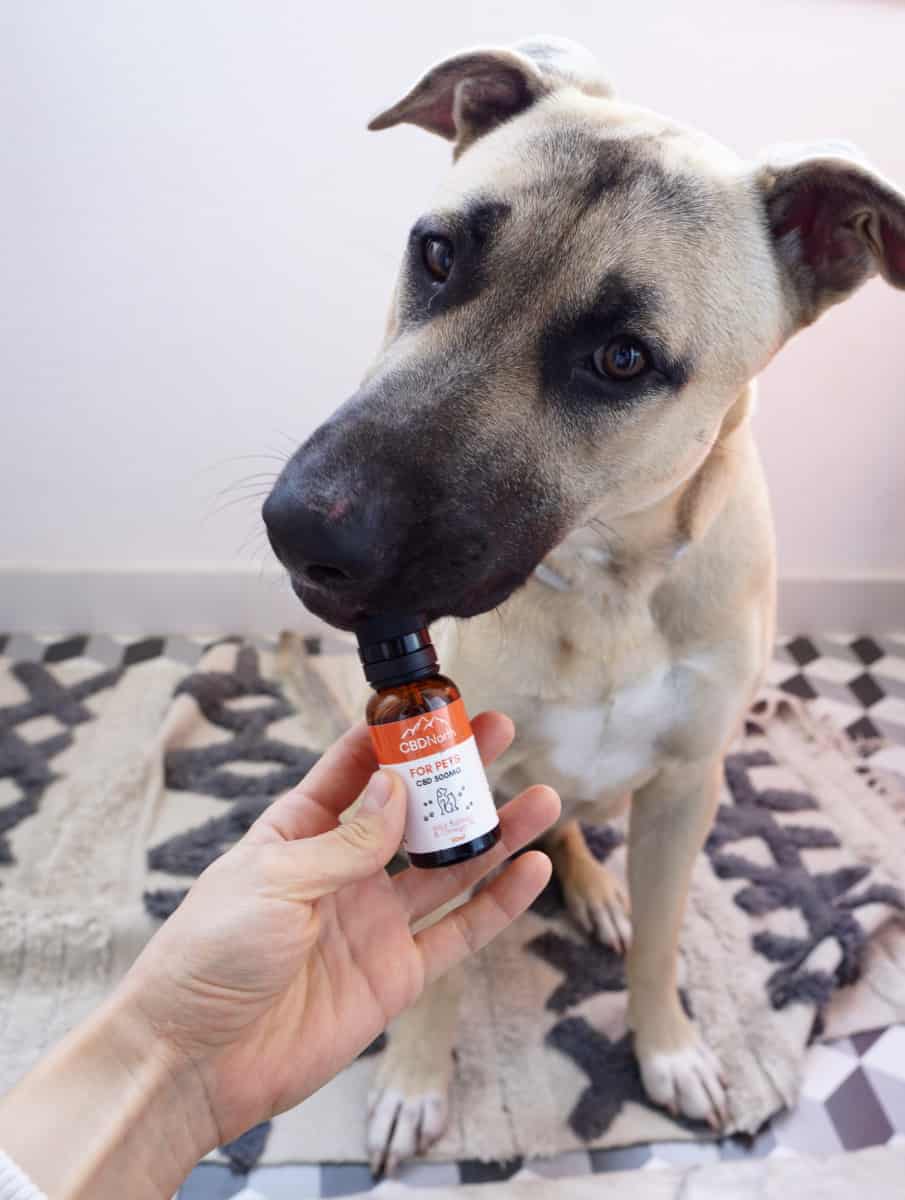 Different Kinds of Pet Products
There are a variety of ways to give your dog their daily dose of CBD. Two common & easy ways are CBD pet oils & dog treats.
Oils can be dropped onto your dog's tongue or better yet, mixed into their food. CBD-infused dog treats are an even easier way to ensure your dog is getting the dose they need as they're pre-dosed.
At CBDNorth we use only the cleanest and purest ingredients for your pet, with no added preservatives or artificial flavoring. All our CBD products are derived from hemp. Our CBD Oil for Dogs is made with CBD Isolate which means it's 100% THC-Free.
CBD Dog Treats – Just 4 Healthy Ingredients
These CBD Dog Treats are low in fat and gluten-free to ensure your dog gets the cleanest and yummiest relief. They are all-Natural with zero Fillers. Hand crafted with just 4 yummy and nutritious ingredients. They come in two yummy & nutritious flavours: fresh pumpkin & Canadian beef liver.
CBD Pet Oil – Clean & Pure
We use Wild Salmon oil as dogs love the yummy taste, and it's loaded with amazing Omega-3s to help support a healthy coat, heart, and joints for your pet. Other CBD brands may use artificial flavors like bacon that may contain harmful phosphates linked to cancer and tumors.
Recap – How CBD Can Benefit Your Dog
CBD can greatly benefit the quality of your dog's life in so many ways. Before committing to chemical medicines & products, we recommend giving CBD a try.
It's less harsh on the body & mind with little to no side effects and can truly help bring your dog's well-being back into balance. We wish you the best on your CBD journey 🐾