Feel More Focused & Calm With These Tasty CBD Cookies!
CBD Recipe Series
In this week's recipe, we're putting a healthy twist on a beloved classic. Chocolate chip cookies, with a modern twist!
These cookies are packed with the nutrients and healing benefits provided by adding both matcha powder & CBD oil. Treat yourself right, with this delicious, energizing and healing snack 🍪
Matcha – A Healthy, Yummy & Soothing Addition
Matcha is a green tea powder from Japan that is made from the tea plant Camellia Sinensis.
It's full of vitamins & antioxidants and is known for reducing inflammation, boosting energy, & supporting healthy brain function.
While Matcha is generally known as a source of caffeine, it also has a calming effect on the nervous system. Due to the special way farmers harvest the tea in the shade it holds a high amount of the amino acid known as Theanine. Theanine naturally reduces stress and is known to aid focus & concentration. So while Matcha may give you a boost of energy & alertness, it also provides a useful calming effect.
Mix With CBD For A Rainbow of Benefits
CBD is one of more than 100 different "cannabinoids" naturally found in hemp and cannabis. Our CBD is extracted from hemp that has high levels of CBD and little to no THC.
For the CBD Isolate Oil and use in this recipe, all traces of THC have been fully removed to create a pure CBD product,
CBD can help to regulate pain, inflammation, the immune system, mood and thinking. By supplementing our bodies with plant-sourced cannabinoids we can help our bodies to alleviate such issues as pain, inflammation, anxiety, an imbalanced mood, sleep disorders and it's even known for its skincare benefits.
When you combine CBD with other beneficial compounds like matcha, this can create an enhanced "entourage effect" where the benefits of each compound strengthen the effects of one another.
So when you have CBD, caffeine and theanine together in these cookies, you should experience more of a balanced and stable feeling of energy, rather than the sudden spike and crash from having caffeine by itself.
CBD-INFUSED Vegan Matcha Cookies
Ingredients:
2-3 Tbsp CBD Isolate Oil

1 Tbsp Matcha Powder

1/2 tsp Baking Soda

130g Maple Syrup

240g Flour

1/2 tsp Sea Salt

1 tsp Vanilla Extract

1 bar Vegan Dark Chocolate

130g Cashew Butter

150g Vegan Butter

60 ml Oat Milk
Directions:
01 – Preheat the oven to 325F.
02 – Whisk the vegan butter until it's creamy & fluffy.
03 – Add in the vanilla, maple syrup, cashew butter & oat milk. Mix for about 1 minute
04 – Sift flour, matcha powder, baking soda & sea salt.
Stir this slowly into the wet mix until a dough forms. Add more milk if needed.
05 – Chop your vegan dark chocolate bar into chunks. Put a small handful aside. Add the rest to the dough. Give it a good kneed.
06 – Scoop tablespoon size balls of dough with a spoon & place them onto a baking tray lined with parchment paper.
07 – Place into the freezer for about 10 minutes. This allows the dough to set, leading to a chewier, flavourful cookie.
08 – Take them out of the freezer, flatten the balls with the palm of your hand. Top with leftover chocolate chunk and bake for about 15 minutes, until the edges are crisp but the cookie is still soft in the center.
09 – Take the cookies out of the oven & let them cool for about 10 minutes.
10 – Enjoy! 😀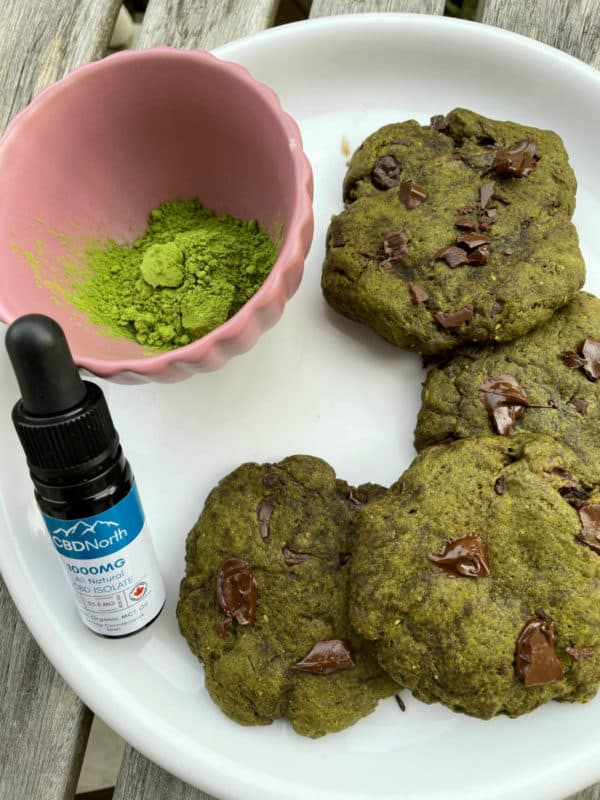 We hope you love our healthy twist on chocolate chip cookies! 😋
Where Can I Get The Best CBD Oil for Making Cookies?
Made in BC with Organic MCT and Organic Hemp for the Cleanest & Purest Experience.
If you're looking for the perfect CBD Oil to add to your food recipes, or even drinks like with our CBD Latte recipe, we've got the perfect selection.
Our CBD Oils are made using premium cold-filtered Hemp and Organic MCT Oil, without the use of any artificial preservatives or additives. This means our CBD Oils offer the cleanest tasting experience, in addition to the most effective relief.
So our CBD Oils aren't just easy to use on their own, but they're also perfect for any recipe as our oils don't make any noticeable impact on the flavour.