A Yummy & Refreshing CBD Drink!
Perfect for Parties & Summer Hangouts
When it comes to mocktails, the Orange Frizz stands in a league of its own. This sparkling favorite combines the juiciness of orange, and the refreshing sparkle of seltzer water.
With the added dash of a homemade rosemary syrup infused with CBD this mocktail is sure to be your go-to this Summer.
Part 1:
Ingredients for Rosemary Syrup
1/4 Cup brown sugar

1/4 Cup water

1 Sprig fresh rosemary, coarsely chopped
Instructions:
In a small saucepan, combine the sugar, water, and coarsely chopped rosemary sprig.

Place the saucepan over medium heat and stir until the sugar has completely dissolved.

Bring the mixture to a gentle simmer, then remove from heat and let it cool completely.

Once cooled, strain the rosemary leaves from the syrup and set it aside for later use.

*If you find the syrup is to thick to stir later, mix in a bit of water until you get your desired consistency
Part 2:
Ingredients for the Drink
1/4 cup orange juice

2 tablespoons rosemary syrup

2/3 cup seltzer water or regular sparkling water

Rosemary sprig for garnish

Orange slice for garnish

Ice cubes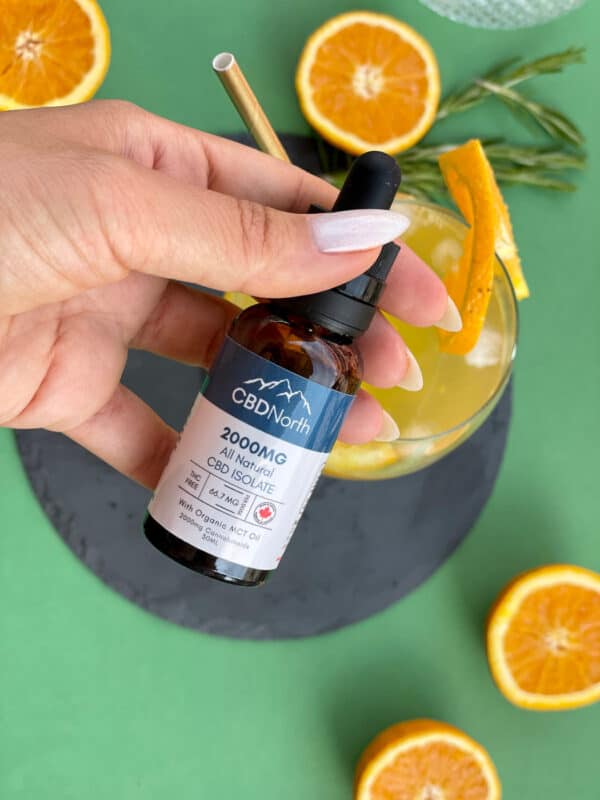 Instructions:
Fill a glass with ice cubes

In a separate mixing glass or cocktail shaker, combine the orange juice and rosemary syrup.

Stir or shake well to ensure the flavours are thoroughly combined.

Pour the mixture over the crushed ice in the serving glass.

Top it off with seltzer water & your dose of CBD, gently stirring to mix everything together

Garnish the mocktail with a fresh rosemary sprig and a slice of orange for an elegant touch.

Sip away and enjoy your Orange Fizz Mocktail!
This mocktail is the perfect addition for any warm evening or special gathering. Easy to make, delicious & healthy. A great way to stay at ease & feeling good this summer.
Where Can I Get The Best CBD Oil for Homemade Drinks?
Made in BC with Organic MCT and Organic Hemp for the Cleanest & Purest Experience.
If you're looking for the perfect CBD Oil to add to your food recipes, or other drinks like with our CBD Lavender-Chamomile Night Tea, we've got the perfect selection.
Our CBD Oils are made using premium cold-filtered Hemp and Organic MCT Oil, without the use of any artificial preservatives or additives. This means our CBD Oils offer the cleanest tasting experience, in addition to the most effective relief.
So our CBD Oils aren't just easy to use on their own, but they're also perfect for any recipe as our oils don't make any noticeable impact on the flavour.