Yummy, Chewy & Nourishing CBD Cookies
Delicious & Nutritious
Start your day off right with these CBD-infused superfood breakfast cookies. Packed with nutrient-rich ingredients, these vegan cookies offer a delightful combination of flavors while providing a healthy boost to your morning routine.
Whether you're a CBD enthusiast or simply looking for a nourishing breakfast option, these cookies are sure to satisfy your taste buds and provide a great start to your day.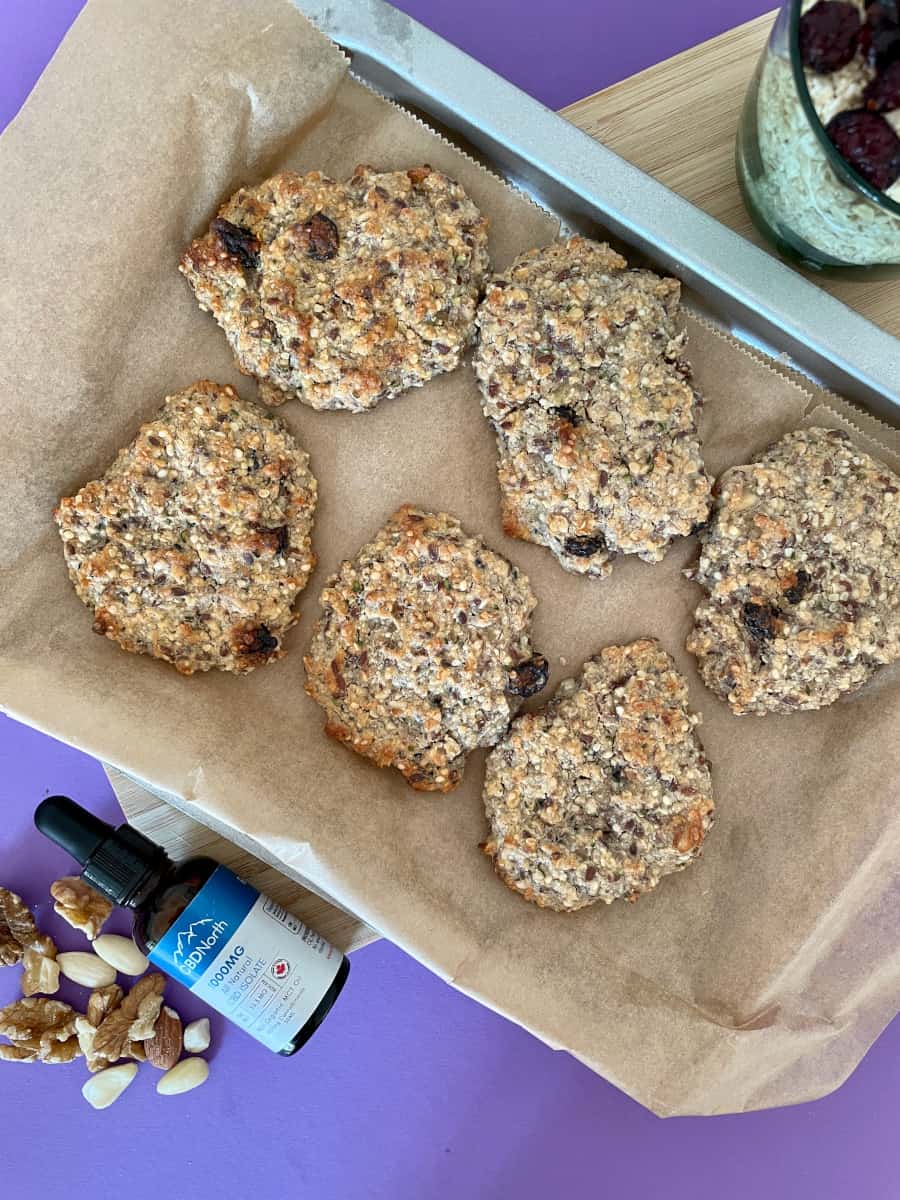 Ingredients
2 Cups yogurt of your choice

1 cup rolled oats

1/2 cup almond flour

1/4 cup hemp hearts

1/4 cup flaxseed meal

1/4 cup coconut oil, melted

1/4 cup maple syrup

1 teaspoon vanilla extract

1 ripe banana, mashed

1/4 cup unsweetened almond milk

(adjust dosage as per your preference)
Instructions:
Preheat your oven to 350°F (175°C) and line a baking sheet with parchment paper.

In a large mixing bowl, combine the rolled oats, almond flour, hemp hearts, chia seeds, flaxseed meal, cinnamon, and sea salt. Mix well to ensure even distribution of the ingredients.

In a separate bowl, whisk together the melted coconut oil, maple syrup, vanilla extract, mashed banana, almond milk, and CBD oil until well combined.

Pour the wet ingredient mixture into the bowl of dry ingredients and stir until all the ingredients are evenly incorporated. The mixture should be sticky but still hold its shape.

Fold in the dried cranberries or raisins and chopped walnuts or almonds, ensuring they are evenly distributed throughout the cookie dough.

Scoop 2 tablespoons of dough and form it into a ball. Place the cookie dough balls onto the prepared baking sheet and flatten them slightly with your hand or the back of a spoon.

Place the baking sheet in the preheated oven and bake for 12-15 minutes or until the cookies are golden brown around the edges. Keep an eye on them to prevent over-browning.

Remove the cookies from the oven and allow them to cool on the baking sheet for a few minutes before transferring them to a wire rack to cool completely. Once cooled, these delicious CBD-infused superfood breakfast cookies are ready to be enjoyed!
Yummy, Healthy & Nourishing.
These CBD-infused superfood breakfast cookies are the perfect way to add a healthy and tasty twist to your morning routine.
Packed with nutrient-rich ingredients like oats, hemp hearts, chia seeds, and CBD oil, they offer a satisfying and nourishing start to your day. Whether you enjoy them as an on-the-go breakfast or a mid-morning snack, these vegan cookies are sure to keep you energized and focused throughout the day.
Where Can I Get The Best CBD Oil for Recipes?
Made in BC with Organic MCT and Organic Hemp for the best All-Natural Experience.
If you're looking for the perfect CBD Oil to add to your food recipes, or drinks like with our CBN Sleep Tea, we've got the perfect selection.
Our CBD Oils are made using premium cold-filtered Hemp and Organic MCT Oil, without the use of any artificial preservatives or additives. This means our CBD Oils offer the cleanest tasting experience, in addition to the most effective relief.
So our CBD Oils aren't just easy to use on their own, but they're also perfect for any recipe as our oils don't make any noticeable impact on the flavour.
Or, maybe you prefer taking or applying the CBD directly to your body? Our CBD Topicals make the great post-workout/post-work cure for sore and ache muscles.
We also have all-natural CBD Gummies, which are a convenient, fun and tasty way to have your CBD.