The Perfect Pre & Post-Workout Snack!
Full of Cinnamon-Apple-Oat Goodness
These tasty CBD protein muffins are made with baked apples & oats. We have a simple recipe for you that's quick and easy to make.
Packed with nutrients, proteins & fibers they make for a perfect pre-/ post-workout snack & are a great option for a quick breakfast when you're on the go. They'll keep you feeling energized and full.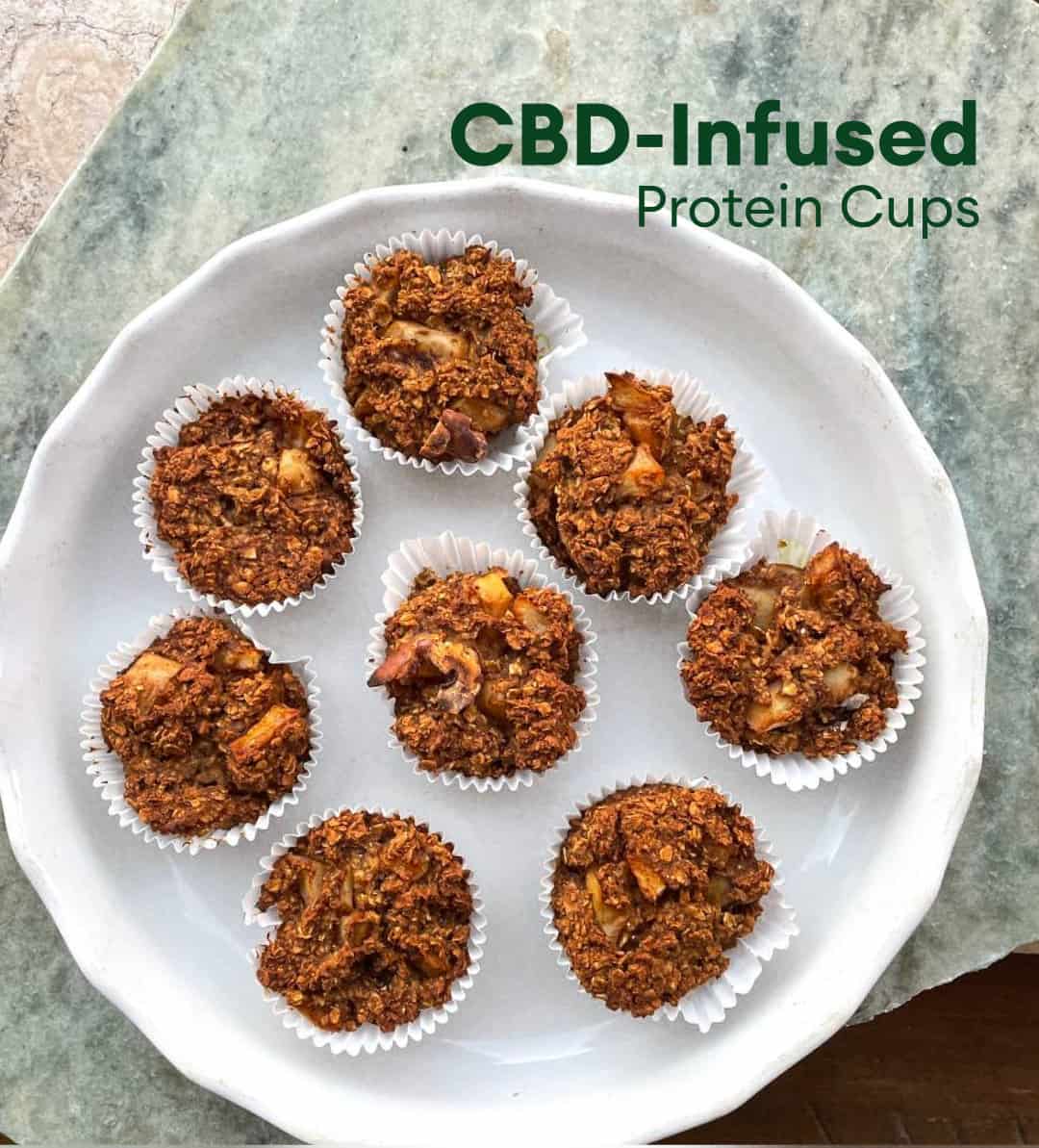 CBD is becoming a popular workout supplement!
If you struggle with stress or anxiety CBD can help relieve any tension you might be feeling, helping ease you into your workout. It can also be a great post-workout remedy.
Did you know that CBD can have a significant effect on reducing inflammation in the body? The soothing effect it has on your muscles can help them recover more quickly, leaving you feeling less sore and more fit!
By adding CBD to your protein bars you're not only getting a boost through the proteins but also giving your body the relief it needs.
*You can add 2-3 Tbsp of CBD to your muffin batter or individually dose the muffins with your preferred dose of CBD, before putting them into the oven.
Ingredients
3 cups old-fashioned oats

1 teaspoon baking powder

1 1/2 teaspoons cinnamon

1/2 teaspoon vanilla extract

2 Tbsp nut butter

1/4 teaspoon salt

1 1/2 cups almond milk

1 ¼ cups unsweetened applesauce

1/4 cup maple syrup

1 cup chopped apples

2 tbsp Vanilla Protein Powder
*These protein cups can be enjoyed as they are or topped with anything you like whether it be coconut flakes, pecans, almond butter, maple syrup, or raisins. Whatever your taste buds desire!
Instructions:
01 – Preheat the oven to 350°F.
02 – Spray a muffin pan with nonstick spray or liner with muffin cups
03 – Add all the ingredients, except for the apples together in a large bowl and mix well to combine
04 – Fold in the chopped apples
05 – Scoop the batter into the muffin cups, filling them to the top
06 – Bake for about 15 minutes or until the edges are lightly browned.
07 – Let them cool for 5-10 minutes.
08 – Enjoy!
Tip: Store your muffins in an airtight container in the refrigerator and they'll last up to a week! Heat them up in a toaster and top with your favourite toppings.
Where Can I Get The Best CBD Oil for Homemade Protein Cups?
Made in BC with Organic MCT and Organic Hemp for the Cleanest & Purest Experience.
If you're looking for the perfect CBD Oil to add to your food recipes, or other drinks like with our CBD Latte recipe, we've got the perfect selection.
Our CBD Oils are made using premium cold-filtered Hemp and Organic MCT Oil, without the use of any artificial preservatives or additives. This means our CBD Oils offer the cleanest tasting experience, in addition to the most effective relief.
So our CBD Oils aren't just easy to use on their own, but they're also perfect for any recipe as our oils don't make any noticeable impact on the flavour.