A Burst of Berry Goodness with CBD
CBD Summer Recipes
Delve into a world of yummy flavours and relaxation with our Raspberry Bliss CBD Mocktail! This refreshing and healthy drink combines the sweetness of ripe raspberries with the soothing properties of CBD, making it the perfect guilt-free treat for any occasion.
Whether you want to unwind after a long day or elevate your social gatherings, this mocktail is sure to be a crowd-pleaser. Let's dive into the recipe.
Ingredients
1 cup fresh raspberries

1 tablespoon maple syrup or agave nectar (adjust to taste)

1 handful of mint leaves

1/2 cup coconut water

1/4 cup freshly squeezed lime juice

1-3 droppers of CBDNorth Full-Spectrum Oil (choose your preferred dosage)

Ice cubes

Fresh mint leaves and extra raspberries for garnish

Your dose of CBD Oil
Step 1: Prepare the Raspberry Puree
In a large glass, add the fresh mint, maple syrup, raspberries and coconut water. Then, blend on medium speed until the mixture becomes smooth and pureed.
If desired, strain the raspberry puree through a fine mesh strainer to remove any seeds. Set the smooth puree aside.
Step 2: Mix the CBD Mocktail Base
In a shaker or a large mixing glass, combine the raspberry puree, coconut water, and freshly squeezed lime juice.
Give the mixture a good stir, ensuring all the flavors blend harmoniously.
Step 3: Infuse with CBD
Add 1-3 droppers of CBDNorth Full-Spectrum Oil to the mocktail base.
Stir and incorporate the CBD oil evenly into the mixture.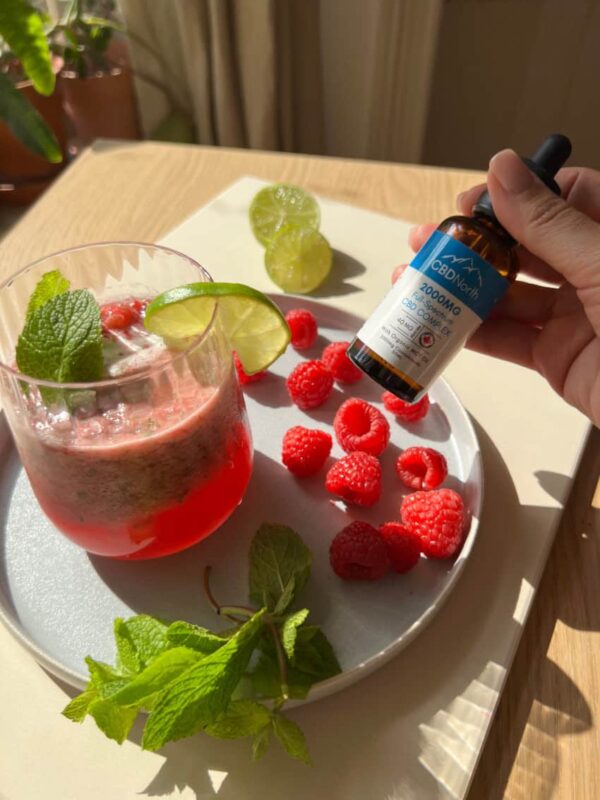 Step 4: Assemble the Mocktail
Fill your serving glasses with ice cubes, leaving enough room for the mocktail.
Carefully pour the Raspberry Bliss CBD Mocktail into each glass.
Garnish each glass with a few fresh raspberries and a sprig of mint.
Enjoy!
Savour this Raspberry Bliss CBD Mocktail at any time of the day!
Its yummy taste and calming effect make it an ideal choice for parties, wellness routines, or simply unwinding with friends and family. Cheers to nature's finest ingredients, good health and great moments! 🍹🌿💖
Where Can I Get The Best CBD Oil for Homemade Recipes?
Made in BC with Organic MCT and Organic Hemp for the Cleanest & Purest Experience.
If you're looking for the perfect CBD Oil to add to your food recipes, or other drinks like with our CBD Lavender-Chamomile Night Tea, we've got the perfect selection.
Our CBD Oils are made using premium cold-filtered Hemp and Organic MCT Oil, without the use of any artificial preservatives or additives. This means our CBD Oils offer the cleanest tasting experience, in addition to the most effective relief.
So our CBD Oils aren't just easy to use on their own, but they're also perfect for any recipe as our oils don't make any noticeable impact on the flavour.